Silicone Scar Sheets (1.6″ x 120″ Roll-3M), Silicone Scar Tape Roll, Scar Silicone Strips, Reusable, Professional Scar Removal Sheets for C-Section, Surgery, Burn, Keloid, Acne et
Product Detail
Product Tags
Pain-Free Scar Reduction - Our Silicone Scar Tape is made with hospital medical-grade soft silicone. It's non-irritating and easily applied and removed, provides pain-free removal and reposition. It's also friendly to sensitive and fragile skin and maintains integrity during use, even when repositioned!
Ideal for a Variety of of Scar - Our Scar Tape is ideal for a variety of scars, including surgical scars, C-section scars, and acne scars. Just place over old or new scars to reduce itching, redness, and discomfort. The medical-grade silicone mimics the natural skin barrier, preventing further skin damage and providing bandage stability.
Ergonomic Design - Soft and flexible with excellent adaptability, our Scar Tape sticks tightly to the body to form an occlusive moist healing environment, softening and flattening scars while promoting better hydration and faster healing with no irritation.
Completely Safe for All Ages - Made with 100% soft, medical-grade silicone, our Scar Tape is free of any latex and teflon. These silicone scar sheets work on new and old scars and are safe for children and adults - just cut to desired length, peel, and apply.
Can be Used for Medical Application - Our Scar Type, while designed for the reduction of scars, was also designed to be ideal for fixation of medical devices such as drains, tubes, probes, electrodes, and much more. It's designed to hold firmly and gently remove without pulling at the skin.
Silicone is a kind of high molecular organic compound, which has been applied in human body for 40 years. This material has no toxicity, no irritant, no antigenicity, no carcinogenic teratogenicity, and has good biocompatibility. In particular, Perkins et al. found that silicone has a unique role in preventing scar hyperplasia in 1982, which has attracted extensive attention of people.
Silicone silicone commonly known as silicone oil or dimethyl silicone oil, it is insoluble in water, but because of lubrication, easy coating, safe and harmless to the skin and become a more ideal hydrophobic matrix, silicone and other fatty matrix often combined into medical silicone gel, referred to as silicone gel.
Silicone is widely used in scar removing beauty products.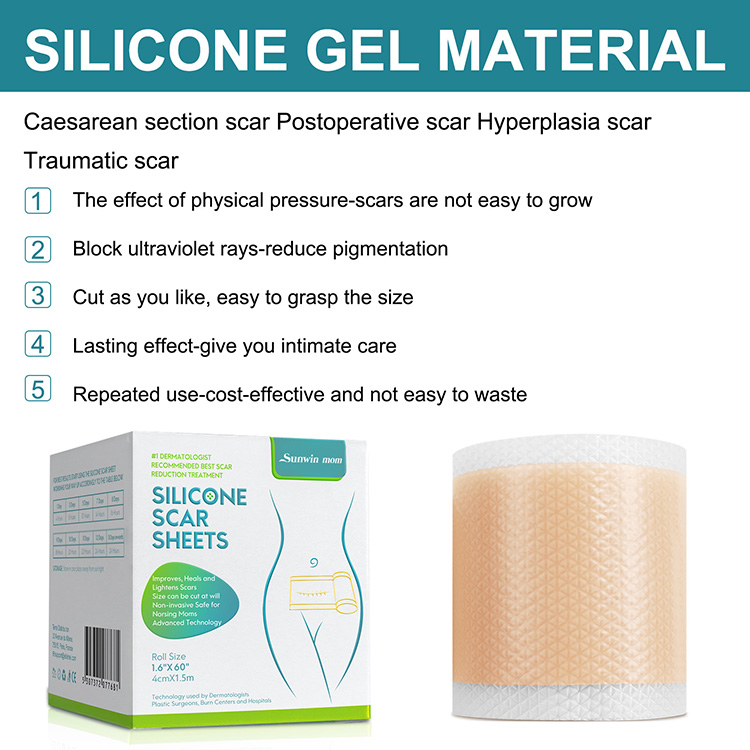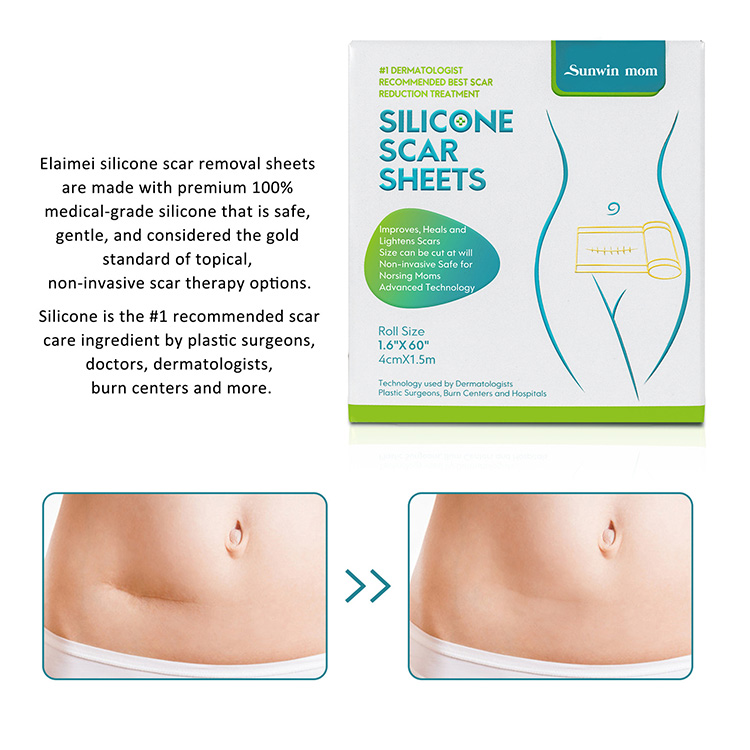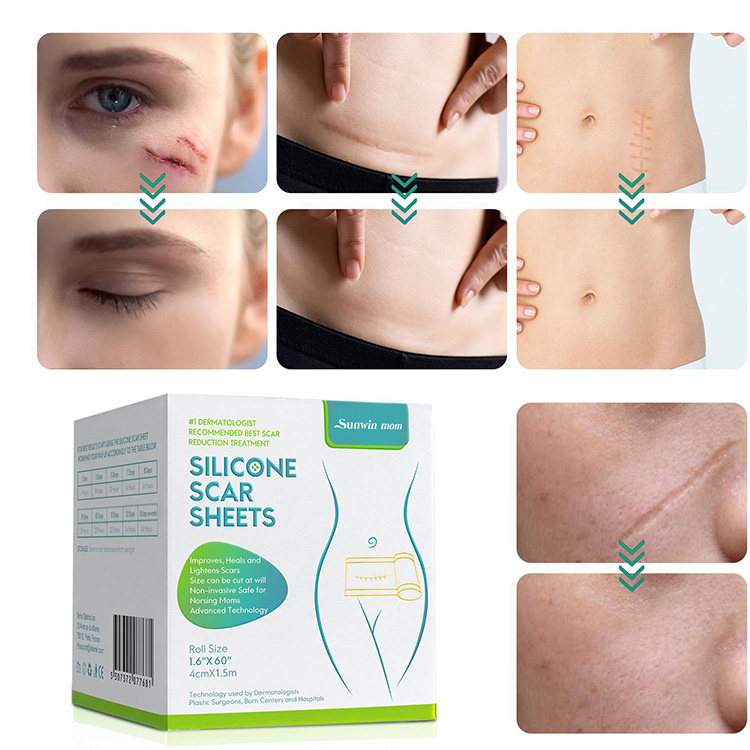 Silicone gels are self-adhesive, non - toxic and non - irritating. Compared with the band-aid products that use pressure sensitive adhesive on the market, the allergy rate is very low.
Product surface composite PU film, Waterproof and breathable.
Silicone gels inhibit scar formation.
Good repeat and paste performance. In special cases, the band-aid can be reattached to the wound after being removed from the wound for a period of time, maintaining the same viscosity as when it was first applied.
Silicone gel has a soft viscosity, Minimize pain and damage during replacement. Especially suitable for the body hairy group use.
---
---